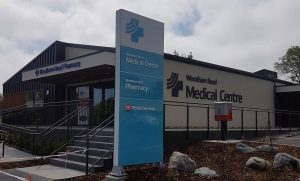 Welcome to Woodham Road Medical
Continuity of care is really important to us.  We would like to encourage patients to try and book predictable appointments 2-3 days in advance as this will help us to book you with your usual doctor.  We will of course try to continue to book more urgent and unpredictable appointments on the day but it is more difficult to then book you with the doctor of your choice.
Community Service Card fees from 1st December 2018
When the government promised cheaper GP visits for patients with Community Services Cards ( CSC)  we were very supportive.  Under the previous CSC system patients with cards had the cost of the consultation topped-up by the government  and this worked well for many years and is a much fairer system.
Unfortunately, the government got cold feet because they were worried they could not afford the cost of this as more patients required more consultations.   So they invented a new CSC deal where they would guess how many consultations would be needed and pay GPs a lump sum to compensate.
At Woodham Road we are really worried that this new system is not sustainable.  The government wants to move to a system like the UK which makes no sense because the NHS is in crisis.   There each consultation is limited to 5 minutes, patients are not allowed more than one problem per consultation and you have to wait 2-3 weeks to get an appointment.  If you are unwell and want an appointment the same or next day you have to go to the emergency department where a recent audit showed  85% of patients have to wait more than 4 hours to be seen.   Already here in New Zealand medical centres that charge $18.50 have a wait of 2 to 3 weeks to be seen.
One way we could make this new deal work is for patients with CSC to  get a new  standard 10 minute consult and everyone else get a 15 minute premium  one.  Patients with CSC would have to pay for equipment or dressing material but those without cards wouldn't.  It would create a 2 tier system where those with CSC get second rate care. 
We  think that is really unfair and goes against everything we believe.  The patients with CSC are often our most vulnerable patients with the most complex problems that need more care not less.  We really don't want to start rushing people through in 10 minutes, its not good for you and its not good for us.
Some people might think that this is about how much we get paid, but I assure you it is not.  In order to push the health system in the direction they want the government has promised doctors taking the deal that they will get paid more not less.  We do not want their bribe we want to give good service.
So for now we at Woodham Road have not accepted this new CSC deal.  In the meantime we will continue to give you the best care we can and we will continue to try and discount the cost for patients who we know are struggling financially as we always have.
Doctors
Dr Adrian Gamble
Dr Sarah Howard
Dr Tania Cooper
Dr Emily Forbes
Dr Fern Andersen
Dr Martin Wilson
Dr Kirstie O'Donnell
Dr Chelsea Loan
Dr Jason Chin
Nurses
Terri
Lynette
Robyn
Sandra
Chloe
Contact Us
Woodham Road Medical
23 Woodham Road
Linwood
Christchurch 8062
Tel: 03 389 9385
Fax: 03 389 9945
Email: admin@woodhamrdhc.pegasus.net.nz
Our bank account details are: Westpac 03-1592-0338906-00
When we are not available, 24 hour service is provided through the 24 Hour Surgery at 401 Madras Street (Dollans Lane). Phone 03 365 7777.